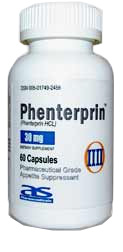 Phenterprin



PHENTERPRIN HCL is an extremely powerful pharmaceutical-grade appetite suppressant for the significantly overweight that works with your body to make you feel less hungry while giving you more energy.
Phenterprin
(Appetite Suppressant - ORAL)
PHENTERPRIN HCL 30mg (Blue/Clear Capsules)
Common Name: PHENTERPRIN (FEN-ter-pren)
USES
Phenterprin HCL is an appetite suppressant used along with diet, exercise, and behavior therapy for the short-term management of obesity.
HOW TO TAKE PHENTERPRIN HCL
Swallow whole. Do not break, crush, or chew before swallowing. Take one capsule (usual recommended dose) in the morning with breakfast. Be sure you take your dose at least 10 to 12 hours before bedtime. Store this product at room temperature in a tightly-closed container, away from heat and light. If you miss a dose, take it as soon as possible. If it is after noon, skip the missed dose and go back to your regular dosing schedule. Do not take 2 doses at once.
SIDE EFFECTS
Side effects that may occur while taking Phenterprin HCL include restlessness, nervousness, difficulty sleeping, or dry mouth. If they continue or are bothersome, check with your doctor. If you notice other effects not listed above, contact your doctor, nurse, or pharmacist.
PRECAUTIONS
WARNING: Do not take if pregnant or nursing. Not for use by persons under age 18. If you have any medical condition or are taking any medication consult a medical professional prior to use. The recommended serving of this product contains about as much caffeine as 2 cups of coffee (in excess of 200mg of caffeine per serving). Limit the use of caffeine containing medications, foods or beverages while taking this product because too much caffeine may cause nervousness, sleeplessness and occasionally rapid heart beat. This product also contains Yohimbe. Do not use if you are at risk or are being treated for high blood pressure, kidney, thyroid, or psychiatric disease, anxiety, depression, seizure disorder or stroke. Consult your physician before use if you are taking MAO inhibitors or any other prescription drug.
BEFORE USING
Certain supplements or medications may interact with this product. Inform your doctor or pharmacist of all prescription and over-the-counter product that you are taking. Do not use if you are also taking guanadrel, guanethidine, furazolidone, fenfluramine, dexfenfluramine, or monoamine oxidase inhibitors (MAOIs). Inform your doctor of any other medical conditions, allergies, pregnancy, or breast-feeding. Use of this product is not recommended if you have a history of heart conditions, brain or spinal cord disorders, atherosclerosis, high blood pressure, glaucoma, or hyperthyroidism. Contact your doctor or pharmacist if you have any questions or concerns about using this product.
NOTES
Appetite suppressants are not a substitute for proper diet. For maximum effects, this must be used in conjunction with a diet and exercise program.
MISSED DOSE
If you miss a dose, do not double the next dose. Instead, skip the missed dose and resume your usual dosing schedule.
STORAGE
Store at room temperature away from sunlight and moisture. Keep out of the reach of children.